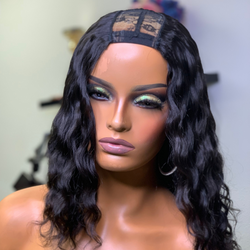 NEEDED ME - M CUSTOM WIG
U Needed Me -  U-part Wig Constructed with 2 bundles of Raw Indian Human Hair
Cap Size: Medium 22 inches
U needed me is ideal for a beauty who prefers to wear their own hair out at the parting area. Simply attach your wig with clips or combs and comb your natural hair over the wefts at the parting space.
100% Raw Indian Hair, this hair is nice and full compared to hair that is not raw.
Texture: Natural wavy
Styling tip: Use our noble glow serum, supreme foam, and water to define the curls
Color: Natural color (brown/black)

Length: 12 inches In the image
Style: Natural wave pattern
Part: middle or side w/ your natural hair left out 
Cap Size: Medium 22 inches
Cap Type: Ventilated Cap
Cap Color: Black
Security: Clips
Lightweight and comfortable on the scalp
Availability: (BLACK FRIDAY) Ships out in 5 to 7 business days after processing time.
*WIG IS SOLD AS-IS*
Your size: Check out the "How to measure" section on the site
*Need help? No worries. Email us wigs@jazayworks.com
CUSTOMER AGREEMENT: BY ORDERING YOU AGREE & CONFIRM THAT YOU HAVE READ & UNDERSTOOD ALL THE TERMS & CONDITIONS, PROCEDURES, POLICIES, FAQ SECTIONS, AND ALL OTHER INFORMATION LISTED ON THIS WEBSITE.