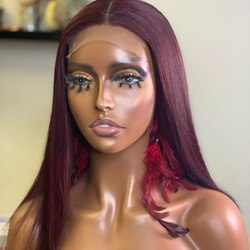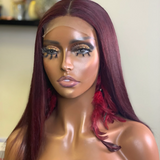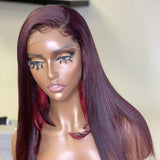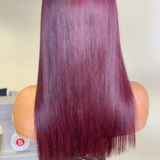 CAPRICORN - Pre Order (will ship in 10 to 15 business days)
Capricorn Premade Lace Wig Constructed with 2 bundles  + 4 in Swiss Lace Closure 
Cap Size: Medium 22 inches
100% Human Hair
Texture: Straight/Natural wave
Styling tip: Use our noble glow serum before and after shampooing or styling
Color: Ruby red
*This color is in high demand. Please allow time to ensure this color is available at your time of order. 
*Please note color in images is not guaranteed and may vary due to lighting and other factors*

Length: 16 inches In the image 
Style: Flat Iron
Part: Middle or Side Part
Cap Size: Medium 22 inches
Cap Type: Ventilated Cap or Dome Cap
Cap Color: Black
Knots Bleached: Yes, minimal
Can be worn with or without adhesive
Lightweight and comfortable on the scalp
Availability: Pre-order only
*WIG IS SOLD AS-IS* -
NOTE: hair and curls will fall and not look exactly like the image after shipping. You are not able to return the wig because of this. See our youtube for DIY videos.
Your size: Check out the "How to measure video"
*Need help? No worries. Email us wigs@jazayworks.com
CUSTOMER AGREEMENT: BY ORDERING YOU AGREE & CONFIRM THAT YOU HAVE READ & UNDERSTOOD ALL THE TERMS & CONDITIONS, PROCEDURES, POLICIES, FAQ SECTIONS, AND ALL OTHER INFORMATION LISTED ON THIS WEBSITE.